We've just added a new plugin that allows Bedrock Edition players to join our Java Edition server. This means you can now play on Gaia Novis with your phone or the Windows 10 Edition. Since our server is in online mode (= not a cracked server), you will still need a valid Java Edition account to play. (Update: this is not necessary anymore. See updated post here.)
How to join with the Windows 10 Edition
Firstly, open up the Minecraft app for Windows 10. If you don't have the app installed yet, you can get it from the Microsoft Store. If you bought the Minecraft Java Edition before Mojang got acquired by Microsoft, you can redeem a voucher code to get the Windows 10 Edition for free.

Follow the steps in the images below to connect.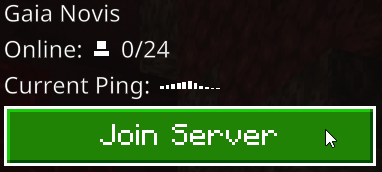 Optional: See updated post here to link your Bedrock Edition account to your Java Edition account.
Note that there are still a few features of the Java Edition that the Bedrock Edition doesn't support. So it doesn't work perfectly. But in general the gameplay works well. I hope you enjoy this new feature!